Ministry Fair 2022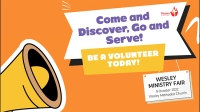 Join Us for Ministry Fair 2022
Come And Discover, Go And Serve!
Every weekend, we need hundreds of volunteers working alongside pastors and staff at our services.
Our volunteers serve in a multitude of roles..., as worship leaders, singers, guitarists, violinists, organists, prayer intercessors, ushers and communion stewards. 
Others serve as mentors or teachers to our young ones. Yet others serve behind the scenes, managing the logistics and refreshments and ensuring all systems are ready to go live. This list goes on.
 Yes, we need volunteers to fill these positions. We need YOU!
Join us at the Ministry Fair 2022
Sunday, 9 October at the Church Courtyard, and at Cineleisure (after services)
Come, and find out more!
For more information: https://wesleymc.org/serve
---
Share with Friends