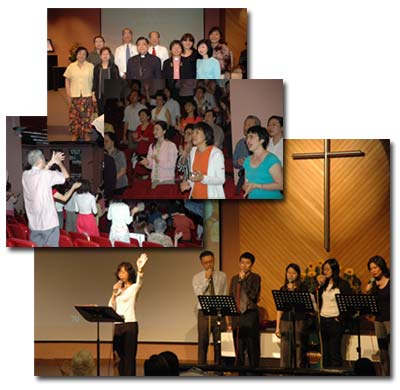 The Mandarin Ministry started on 17 January 1993 with the vision of one man -- Prof Khoo Oon Teik, who saw the need to evangelise those who only understood and could speak in Mandarin and other dialects. The annual Chinese New Year Dialect Outreach was first conducted in his own home and later at Wesley Methodist Church. Through the years, attendance at these outreach services steadily grew with more receiving Christ each year.
Now under the leadership of Rev Michael Tan, the Mandarin Service continues to grow. Baptism and membership classes are conducted three times a year.
We have a Resource Library which houses a collection of tapes, CDs and VCDs of Bible teaching and sermons conducted in Mandarin and in Hokkien and Teochew dialects. The dialect tapes have proved to be an especially invaluable tool of outreach to the elderly and dialect speaking non-believers.
For more information, please send us an email here: This email address is being protected from spambots. You need JavaScript enabled to view it.
Download/View the Mandarin Worship Video and the weekly worship bulletin here - > https://sites.google.com/temp.wesleymc.org/mandarinministry/home 
每周华语事工/活动
Mandarin Ministry Weekly Events Schedule
日期与时间
Date & Time
地点
Venue
主日查经班
Sunday Bible Study Class
星期日 午1点
Sunday 1pm
B2底层3号课室
Basement Rm 3
主日乐龄团契
Sunday Seniors Fellowship
星期日 午1点
Sunday 1pm
B2底层6号课室
Basement Rm 6
主日祷告良辰
Sunday Prayer Service
星期日 午2点15分
Sunday 2.15pm
卫斯理礼堂
Wesley Hall
主日崇拜
Sunday Service
星期日 午2点30分
Sunday 2.30pm
卫斯理礼堂
Wesley Hall
星期三祷告会
Wednesday Prayer Meeting
晚7点30分
(每月第二和第四周)
Every 2nd & 4th Wednesday 7.30pm
B2底层3号课室
Basement Rm 3