Witness & Evangelism
Witness & Evangelism (W&E) provides opportunities to bring your loved ones to the gospel in a non-threatening environment. It also runs short courses to help equip Christians in reaching out to their pre-believing friends.
Activities include:
Creative Expression Ministry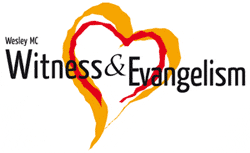 Our logo:
The merged hearts symbolize love, unity and emphathy. Their imperfect lines represent broken hearts reaching out to one another.
The orange and red colours reflect vibrance and hearts ablaze for the Lord and in spreading His message of salvation to the world. Let us go forth to be fishers of men.



We'd love to connect and walk with you in this life's journey. Talk to us and let us get to know you. Drop us an email here: This email address is being protected from spambots. You need JavaScript enabled to view it.

What is Alpha?
Alpha is a series of interactive sessions that allows you to freely explore the Christian faith. It is a safe space to ask questions and have conversations about life, faith and God.
How does it work?
Alpha@Wesley consists of 12-sessions. Each session includes food, a short video and a discussion where you can ask anything or share your thoughts. Alpha is organised in Wesley twice in a year through small groups.
Topics:
| | |
| --- | --- |
| Session 1: | Is There More to Life Than This? |
| Session 2: | Who is Jesus? |
| Session 3: | Why did Jesus Die? |
| Session 4: | How Can I Have Faith? |
| Session 5: | Why and How Should I Pray? |
| Session 6: | Why and How Should I Read the Bible? |
| Session 7: | How Does God Guide Us? |
| Session 8: | Alpha Weekend Away or Day Away< |
|   | Who is the Holy Spirit? |
|   | What does the Holy Spirit do? |
|   | How can I be filled with the Holy Spirit? |
|   | How Can I Make the Most of the Rest of My Life? |
| Session 9: | How Can I Resist Evil? |
| Session 10: | Why and How Should I Tell Others? |
| Session 11: | Does God Heal Today? |
| Session 12: | What About the Church? |
To know more about Alpha in Wesley, please email to This email address is being protected from spambots. You need JavaScript enabled to view it.
Sports & Wellness
Sports & Wellness is a ministry that provides an outreach platform with sports and health-related activities. Volunteers organise sports activities for both believers and pre-believers, building a community in a congenial environment where pre-believers can explore more about the Christian faith.
Previous activities have included football, futsal, running, walking, Zumba, cycling, dragon boating, kayaking and health talks.
The ministry also operates on a partnership model where it provides outreach activities through sports and wellness for ministries across the church.
To know more about Sports & Wellness, please email This email address is being protected from spambots. You need JavaScript enabled to view it.
Equipping
In Equipping, we have been constantly exploring new ways to encourage and equip Christians with the skills and confidence to share their faith. The aim is to help every Christian understand and articulate their faith in a natural and reasonable manner, in order to bring pre-believers one-step closer to Christ.
To know more about Equipping, please email to This email address is being protected from spambots. You need JavaScript enabled to view it.
Marketplace Ministry
The purpose of Marketplace Ministry is to equip Wesleyans to be 'Salt and Light' in transforming the Marketplace with God's redemptive grace at work.
The ministry organises work related seminars and conferences, forms Marketplace Support Groups (MSG) to journey through work related challenges, and reaching out to colleagues through Alpha Workplace. 
To know more about Marketplace Ministry, please email to This email address is being protected from spambots. You need JavaScript enabled to view it.
Creative Expression Ministry
The Creative Expression Ministry (CEM) of Wesley Methodist Church brings together musicians who are keen to share God's love through music and songs. It provides a platform for musicians to engage in outreach through their music at locations such as homes, hospitals, the Wesley Youth Centre, and licensed public spaces.
A regular outreach venue every 2nd Saturday of even month is at the Bethany Methodist Nursing Home.
CEM musicians include those playing the Guitar, Ukulele, Cajon and Drums. We meet to learn and practice weekly on Tuesday for Ukulele and Guitar and on Thursday for vocals and percussion from 7.30-9.30pm.
The music we play includes
Hymns and Worship Songs,
Singaporean National Songs and community or folk songs,
popular old and new songs.
To know more about Creative Expression Ministry, please email to This email address is being protected from spambots. You need JavaScript enabled to view it.
Hospitality Ministry
The Hospitality Ministry aims to provide a casual environment to integrate guests of Wesley into the Wesley family.  With the setup of the Welcome Corner, situated at a prominent spot in Wesley Church, ministry volunteers are able to interact with new guests to the church over a cup of coffee or tea and light bites.
Over these short interactions, volunteers can take the opportunity to befriend the guests, share about Wesley Church and the many programmes and communities within our church like Alpha, Small Groups, and various courses and activities.
To know more about Hospitality Ministry, please email to
This email address is being protected from spambots. You need JavaScript enabled to view it.