Dear Partner-in-Missions
Thank you for your interest in finding out more about missions at Wesley.
Missions covers many aspects. Please check the links below to find out more and also to see how you can be a part of missions at Wesley.
Prayer
Praying for missions is absolutely vital and no missions work can be started or maintained without committed, sustained and sometimes intense prayer.
Many missions leaders have expressed a "rule of thumb" that for every missionary out on the field, there ought to be at least 20 people faithfully supporting that person in prayer back home.
How can you be involved?
Individually:
Our main prayer tool is the Wesley Weekly which is distributed to all church-goers every Sunday. The prayer items for missions occupy one entire section on the last few pages of the weekly. We encourage you to take it home and to pray through the items there week by week. The prayer pointers are updated weekly.
With your small group:
If you are part of a small group, why not use the Wesley Weekly to pray for some of the items every time you meet? Some small groups focus on one or more missionaries, to pray for them, and also to keep in touch through email or phone, so that they can pray in greater depth.
By joining a prayer chain:
This is still in formation. Contact the pastoral team member (PTM) for Missions if you are interested. Basically it means you are on "standby" to pray for urgent needs which may be sent to you via sms and/or email.
Through the Wednesday Prayer Service:
Every Wednesday (with a few exceptions due to public holidays) we have a church prayer meeting during which all the missionaries and their work are prayed for. Time: 7.30pm. Place: Level 3 Hall, unless otherwise announced.
Other:
At least twice a year there are prayer meetings at church-wide level that focus on missions. These are announced in the Wesley Weekly.
How to pray for missionaries
You can follow the prayer pointers given in the Wesley Weekly, but for suggestions on how to pray for missionaries when you don't have up-to-date information, please check:
Missions Teams
In alignment with God's heart for the nations, we have been sending missions teams to reach out to the least, the lost and the last. Over the years, our missions teams have established good relationships with our partners in the fields and worked very closely with them to bless the communities in Cambodia, Indonesia, Myanmar, Philippines, Thailand, Timor Leste and South Asia.
Our missions teams also focus on building relationships with the people we are reaching out to and, together with our field partners, contribute towards the on-going purpose of carrying the gospel into the regions beyond.
Missions teams comprise of team leaders and members who have been praying, making regular visits and supporting the ministry work in the fields. They maintain contact with our missions partners in the fields and enable us to have regular updates on the ministry work and their needs. For more information on our mission fields, click this link.

Come, join a missions team to hear from our missions partners, pray for them and encourage them through our virtual tea fellowship. If you are keen to find out about the ministry opportunities for you to explore, be it virtually or physically, please email This email address is being protected from spambots. You need JavaScript enabled to view it.
Supporting Missionaries
Wesley Church supports four categories of missionaries:
A few non-members are supported as an expression of support for the mission organizations and/or the missions projects they are involved with.

Wesley members who are based in Singapore and who are working full-time in missions or evangelism at an organization based here. Their ministry may be both local and overseas.

We also support a number of people who are undergoing full-time theological training. They are preparing to serve the Lord as missionaries or in a pastoral role.

We also support short-term workers for a period of 4 to 36 months.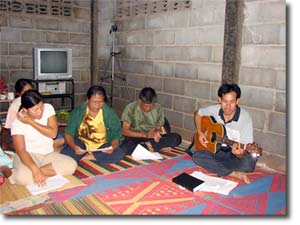 According to our Missions Policy, all support given from the Church budget is reviewed every six months.
The support given to them from the missions budget of the Church covers part or most of their basic needs for housing, food, local transport and the like. The church can channel donations designated for any of the above categories of people. Please make your cheque payable to Wesley Methodist Church and provide a cover note so that we will know for whom the gift is designated and/or where to channel your gift.
Encouraging Missionaries
Barnabas, mentioned in the book of Acts, is the great example of someone whose life and ministry were marked by the way he encouraged others. You too can refresh and encourage our missionaries. You don't need a special calling to do this. In fact, it's a command given to every believer:
"Encourage one another and build up each other, just as yu are in fact doing."
~ 1 Thessalonians 5:11 NET Bible
All you need is some understanding of the role the missionary fulfils and an idea of the challenges the missionary faces in that role. Missionaries serving overseas in a different culture have to adjust to learning a new language, living in a different climate, eating different kinds of food than what they were used to at home. They have to figure out how to function in a culture where many things are done differently. In addition, they also miss their extended family and the friends they have at home.
How can you find out more about the specific needs and challenges of a particular missionary or tentmaker?
Ask to receive the missionary's newsletter (prayer letter).
Get to know him or her when they are back home on leave.
If you need help with either of these, contact the PTM for Missions at 6336-1433.
What can you do to encourage them?
Prayers (see Prayer tab)
Send them some news from home by letter or email*


[caution about email: some of our workers live in sensitive contexts where it is not possible, or not advisable to freely and openly share about Christian matters. For guidelines, please contact the PTM for Missions]

Remember their birthday (including their children in the case of a family). Send them a nice card and/or a simple gift.
Offer to help them by taking care of some matters at home while they are overseas. Some missionaries appreciate someone who will mail out hard copies of their newsletter on their behalf. Most will appreciate it if you can pray for and occasionally visit their elderly parents.
These are just some practical ways to encourage missionaries. There are many more. The key is: get in touch with the missionary or tentmaker and find out how you can help him or her. Then do it with love and faithfulness. You will be blessed as you bless them.
Am I Called?
This question comes up every time people hear about the challenges of sharing the good news of Jesus Christ with those who have never heard it.
In one sense, every Christian is called to obey the command which Jesus gave to all disciples before He went back to the Father:
Then Jesus came up and said to them, "All authority in heaven and on earth has been given to me. Therefore go and make disciples of all nations, baptizing them in the name of the Father and the Son and the Holy Spirit, teaching them to obey everything I have commanded you. And remember, I am with you always, to the end of the age."
– Matthew 28:18-20 NET Bible
This command was not given to a select few only, or only to those who have an interest in missions. It's a basic instruction for every follower of Christ.
But there are many different ways in which believers are called to fulfil this commandment.
Go-ers, Pray-ers, Senders, Mobilizers
Some have a clear sense of calling to go, whether overseas or staying where they are, to reach out with the good news of Jesus to those who have not heard or not responded to the message.
Some have an equally clear calling and gifting to pray for those who go. Without prayer, the person who goes is unlikely to see any results. Transforming lives and communities is something only God can do, which is why prayer is so crucial.
Some have been blessed with the resources to be able to send people out into the harvest field. They can support financially, not only workers, but possibly also projects, and find the fulfilment of their calling in empowering others. They are partners in the work, and Paul's letters in the New Testament give us numerous examples of the crucial role these partners played in the spread of the gospel.
Others are mobilizers. This group is the least understood, yet today the most needful. The natural tendency of many is to get so busy with our daily lives and our career that we forget about the needs of the millions of poor and unreached peoples on our planet. Mobilizers find ways to remind fellow believers of the needs out there and they show the church how it can be involved in meeting those needs. They network, educate, train and exhort believers to obey the command given by Jesus in Matthew 28.
How do you know which role is for you?
Pray: Ask the Lord to show you. Read His word and allow Him to speak to you. Listen to what God may be saying to you through the ministry of others: pastors, teachers, fellow small group or Bible study members. Learn about various types of missions work and about the challenges involved. Read the letters of missionaries and tentmakers you know. Read missionary biographies. Through all these means, God will speak to you. He is not so much concerned about your ability or the lack of it, but much more interested in your availability.
Say to Him: Lord, here am I, send me, or use me. He will not fail to answer.
This process of discovery is a journey. In very rare cases it can be an emotion-charged crisis moment in which God's will is revealed to you as in a flash. But emotions are dangerous guides. A long-term commitment depends mainly on our will. Jesus warned of the need to count the cost before we undertake anything. Are we willing to pay the price?
The PTM for Missions and the Missions Committee are ready to help you along this journey and have some resources available for you.
For more background information on what a missionary really is and the importance of a clear call, see also:
Missions Committee and Subcommittees
According to Wesley's Missions Policy, the Missions Committee has a number of well-defined tasks:
Make our congregation aware of the Biblical basis for theirChristian responsibility in the field of missions.

Inform our congregation of the state and needs of our missionaries, missions fields and the missionary organisations we support.

Encourage our congregation in the task of intercessory prayer for world missions / evangelisation, and for our missionaries.

Care for the missionaries supported by Wesley Church, and to encourage our congregation to do the same.

Identify, nurture and evaluate suitable members of Wesley Church with the call to tentmaking, short-term ministries and full-time pastoral or cross-cultural ministries.

Send out missionaries and full-time workers into the field, locally or overseas, in collaboration with missions agencies or para-church organisations.

Serve as a liaison between Wesley Church and our missionaries, our students, and the missionary organisations we support.

Organise a missions education programme (including overseas missions trips and missions seminars), to expose and challenge our congregation and so bring missions into the very fabric of our church life.

Develop and administer the church funds and designated giving allocated to Missions and Training Support.

Implement the Missions Policy and review it every 3 years.
Subcommittees

In order to fulfil these roles, the committee has organized a few subcommittees:
Care: The charge given to Care encompasses "Candidate Care" (for fresh applicants); "Vacationer Care" (for those already in ministry or preparing for ministry); "governing" for consistency in decision making; and "prayer care" (which underscores that prayer is the bed-rock of missions). All these areas of ministry require your support and involvement. Please contact our PTM for missions if you sense that God has called you to serve in any of these areas.
Awareness: This subcommittee runs the Kairos training programme as well as other events and seminars to promote missions awareness and involvement.
Ad-hoc subcommittees are constituted when needed to review the Missions Policy and for the organization of missions conferences.
Currently all 3 subcommittees need help. Please contact the PTM for Missions for details on ways you can be involved.
Missions Policy
If you are a member of Wesley Methodist Church and wish to have a copy, please email to
This email address is being protected from spambots. You need JavaScript enabled to view it.
. Limited no. of hard copies are available.
Training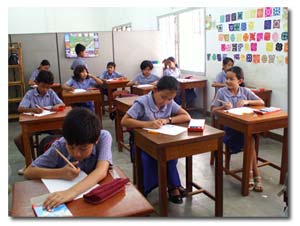 Please refer to the Wesley Weekly for dates and details of our Missions Team Prep Course and other missions education events. Email This email address is being protected from spambots. You need JavaScript enabled to view it. for further enquires.
Tentmaking
What is tentmaking?
The term comes from the life of Paul the apostle. At some stages in his ministry he worked as a tentmaker while he continued (part-time) to evangelize, preach and disciple in the churches he had planted. The key verse is Acts 18:3:
After this Paul departed from Athens and went to Corinth. There he found a Jew named Aquila, a native of Pontus, who had recently come from Italy with his wife Priscilla, because Claudius had ordered all the Jews to depart from Rome. Paul approached them, and because he worked at the same trade, he stayed with them and worked with them (for they were tentmakers by trade).He addressed both Jews and Greeks in the synagogue every Sabbath, attempting to persuade them.
– Acts 18: 1-4, NET Bible
The term tentmaking as used today really refers to a ministry model where no distinction is made between "'sacred" and "secular". All of our work and all of us communicate something of God's love, so that almost any job which serves the community in some way can be a platform for reaching out to people with the good news of Jesus. The very excellence of our work, the way in which we as Christians relate to people on the job, and the high standards we apply speak to unbelievers about the God we follow. People who deliberately pursue their career overseas so that they can relate face to face with non-Christians are tentmakers.
The extent to which they are involved in "actual" ministry (e.g. doing Bible study, praying, discipling) will vary greatly depending on the kind of job, location and other constraints. But the intention to make disciples must be there. The fact that your company posts you overseas does not make you a tentmaker.
Why tentmaking?
The reality is that 80% or more of Asia can no longer be reached by "traditional" missionaries. Most countries simply refuse to issue visas to missionaries. They are not welcome. But professionals such as doctors, nurses, managers, IT specialists, linguists, engineers and other skilled workers are highly sought after in many nations.
A small number of Wesley members is already involved in tentmaking in various forms.
Can I be a tentmaker?
The answer to that question will be somewhat like the answer to the question: Am I called? Without a clear call, it is difficult to see how one can persevere in such a role. You would need as much prayer support and encouragement as a "regular" missionary.

Some specialized training is also highly desirable. Even more important is a "track record" of being a discipler here at home. If you have never led anyone to the Lord, or have never been involved in discipling anyone at home, going overseas is not going to make you an effective worker.

Please contact the PTM for Missions if you have questions or would like to know more.

For further reading, we strongly recommend a collection of articles found at: