The Life You've Always Wanted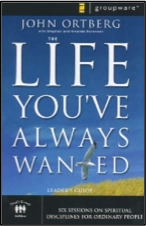 By John Ortberg

What does true spiritual life really look like? What keeps you from living such a life? How can you pursue it?

If you're tired of the status quo – if you suspect there's more to Christianity than what you've experienced - John Ortberg invites you to join him on a road to transformation and spiritual vigor that anyone can take. The Life You've Always Wanted guides you down the ancient path of the spiritual disciplines.

6 DVD Sessions:
It's "Morphing" Time
Slowing Down and Celebrating
Praying and Confessing
Meditating on Scripture and Seeking Guidance
Practicing Servanthood, Finding Freedom
Going the Distance with a Well-Ordered Heart
Christian Disciplines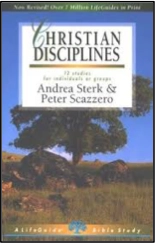 By Andrea Sterk & Peter Scazzero

The values of our consumer society shape our view of discipleship. In his book Celebration of Discipline, Richard Foster spells out our dilemma: "Superficiality is the curse of our age. The doctrine of instant gratification is a primary spiritual problem. The desperate need today is not for a greater number of intelligent people, or gifted people, but for deep people."

This study guide on basic disciplines of the Christian life will strengthen your foundation in Christ and deepen your relationship with him.

12 BookSessions:
Part 1: Connecting with God
Quiet Time
Prayer
Bible Study
Worship
Part 2: Reaching Out to Others
Evangelism
Social Justice
Missions
Giving
Discipling
Part 3: Staying on Track
Times & Gifts
Guidance
Christian Community
Hearing God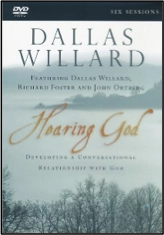 By Dallas Willard

How do you develop a conversational relationship with God? How do you learn to discern the voice of God in your own life?

Incorporating teachings from Dallas Willard's book Hearing God: Developing a Conversation Relationship with God, this DVD features conversations between Dallas, Richard Foster and John Ortberg on the core themes of hearing God.

6 DVD Sessions:
ou were created for Intimate Friendship with God
What Hearing God is Not
Trinitarian Fellowship
The Still Small Voice
Hearing God in the context of the Kingdom of God
Hearing God as a Life
PRAYER – Does it make any difference?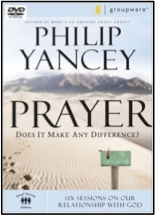 By Philip Yancey

Does prayer change us or God? Or both?

Prayer is a priceless point of contact between us and the God of the universe. But it is often frustrating, confusing, and fraught with mystery. Philip Yancey guides you in exploring such questions as: Is God listening? If God knows everything, what's the point of prayer? Why do answers to prayer seem so inconsistent and capricious? Why does God seem sometimes close and sometimes far away? How can I make Prayer more satisfying?

In six thought-provoking and inspiring sessions, award-winning author Philip Yancey helps you and your group explore and experience the very heartbeat – the most fundamental, challenging, perplexing, and deeply rewarding aspect – of our relationship with God: prayer.

6 DVD Sessions:
The View from Above • Why Pray?
Keeping Company with God
How to Pray
Prayer Problems
Does Prayer Change Anything?