In Transit: What do you do with your wait?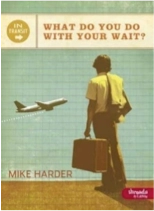 By Mike Harder

We wait for what's next. We wait for the right person. We wait for the perfect job. We wait when we don't know what to do next. And most of the time, we don't like the wait.

This DVD bible study traces the lives of Joseph, David and Jesus as they waited – sometimes painfully – to see Gods promises come to pass. What was true for those men is true for you today – there is great purpose in the waiting. God uses times of waiting to sharpen our sense of awareness and to teach us a better understanding of His timing and faithfulness.

6 DVD Sessions:
In the Waiting Room
Destination unknown
Short Circuits are dangerous
Under Construction
Choice is optional
Cleared for Landing
If You Want to Walk on Water, You've Got to Get Out of The Boat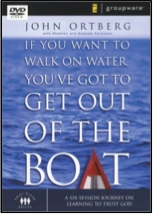 By John Ortberg

Peter may have been the first one out of the boat, but Jesus' invitation to walk on water is for us all. If You Want to Walk on Water, You've Got to Get Out of the Boat helps your small group answer Christ's call to greater faith, power-filled deed, and a new way of knowing him.

6 DVD Sessions:
That's Water-Walking?
The Tragedy of the Unopened Gift
Find Your Calling and Get Your Feet Wet!
Facing Our Challenges, Conquering Our Fears
Good News for Cave Dwellers
Learning to Wait on Our God
Surprised by Hope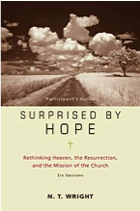 By N.T.Wright

Many Christians believe our future in heaven is all that really matters. But that's not what the Bible teaches.

This DVD bible study explores such questions as What is heaven really like? Is our main duty as Christians simply to help non-Christians get there? What hope does the gospel hold for this present life? In what ways does God intend for us to experience that hope personally and spread its healing power to the world around us? Surprised by Hope provides a clearer vision both of the future and of God's kingdom at hand today.

6 DVD Sessions:
Hope for the World
The Hope of the Resurrection
The Hope of Heaven
The Hope of Jesus' Second Coming
The Hope of Salvation
The Hope of the Church
WEIRD: Because Normal isn't Working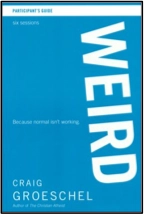 By Craig Groeschel

The WEIRD way to live God's grace and truth. In this six-session, video-based study, Groeschel shares a Christ-centred philosophy on everything from money to scheduling to purity. His WEIRD views will help you break free from the norm, live according to the rhythms of God's grace and the truth of his Word, and lead a radically abnormal (and endlessly more fulfilling) life.

6 DVD Sessions:
The God Kind of Weird
It's Time to be Weird
Weird that Money Can't Buy
Pleasing God Is Weird
Weird Makes You Truly Sexy
The Weirdest Blessing Possible
How to be Rich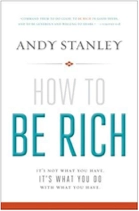 By Andy Stanley

In first-world Singapore, we live in a life and time of relative luxury. But this material world and consumerist culture tells us that enough is never enough: we are always chasing more and we do not know how to be content with what we have. Having money also gives us the impression that we are self-sufficient as we equate net worth with self-worth, reducing our reliance and relief in God.

Jesus gave us 2 simple commandments: love God, and love your neighbour. As stewards of God's creation, we honour God by managing and applying our material blessings towards purposes that live out our love for God and our love for our neighbours.

So how should Christians treat the riches that they accumulate in this world? Andy Stanley prescribes some practical guidelines to help Christians abide by Biblica principles for dealing with their money: (1) make giving a Priority; (2) give based on a Percentage; and (3) give Progressively more.

This 4 sessions DVD study reads well with 1 Timothy 6. Recommended for small groups who aspire to progress towards being giving Christians and good stewards of God's material blessings.
When Godly People do Ungodly Things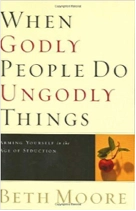 By Beth Moore

Satan has been attacking God's creation since the beginning of time. From the fall of the very first man and woman, to Satan's attempts to tempt Jesus, and finally to our present-day world which is rife with seduction. The early Church leaders recognised the power of Satan and our habit of falling into sin, as is evident from the teachings of the New Testament writers.

Today, 2000 years later, how do we apply those lessons of the Bible in a world where temptation is just around every corner? First, we empower ourselves with Bible scholarship by learning from the lessons of those who have gone before us and placed their faith in God. Second, we learn to recognise the subversive nature of temptation. Third, we build spiritual defences against seduction. Fourth, we commit ourselves to obedience in God and accept the awesome power of Jesus' sacrifice.

This 6 sessions DVD study contains many Bible references to aid a small group keen on developing their spiritual safeguards against Satan. Included is 5 daily readings per week for individual bible study.