Counter Culture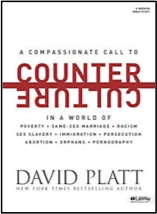 By David Platt

The Bible is clear on a number of issues:
Who God is—the holy, just, and gracious Creator of the universe
Who we are—men and women created in the image of God for our good and for God's glory
Who Christ is and what He has done—His life, death, and resurrection
What it means to follow Christ—to die to ourselves and to live in Him
Why this matters for eternity—heaven and hell are at stake in our response to the gospel

So how do these truths affect how we respond to the social issues of our day—realities such as poverty, slavery, abortion, sexual immorality, the degradation of marriage, the neglect of orphans and widows, racism, and persecution?

David Platt believes that the truths of the gospel should compel us to a contrite, compassionate, and courageous personal response to social issues in the culture. Using biblical foundations, practical illustrations, and personal exhortations, this study is a pointed yet winsome call for readers to faithfully follow Christ in countercultural ways. There will be a cost. There will be a reward. Do Christians in the contemporary church have the courage to counter the culture?

6 DVD Sessions:
Culture
Wealth
Human Life
Sexuality
Race
Faith
The Beauty of Intolerance – Setting a Generation Free to Know Truth and Love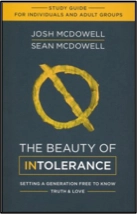 By Josh Mcdowell Ministry and Sean Mcdowell

Intolerance is a beautiful thing …when you understand it from God's point of view.

Why is cultural tolerance so pervasive in today's world – showing up in education, government, society…even within the church? And…what can I do about it?

Through this book study, discover the truth to counter the influence of cultural tolerance.

6 DVD Sessions:
What Does It Mean to Be Tolerant?
The Loss of MoralityDoes Love Make It Right?
A Love That Accepts without Condition
Cultural Tolerance and You

To get the most of this study, read its companion book The Beauty of Intolerance (optional purchase).
#struggles: Following Jesus in a Selfie-centred World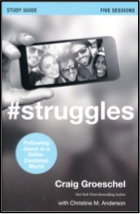 By Craig Groeschel

Stand Apart in a Selfie-Centred World. We all love the benefits of technology, but even with the upsides, many of us suspect there are negative consequences beyond our control. In this timely small group study, pastor and bestselling author Craig Groeschel shows how we can stay engaged with technology in our social media saturated world while still keeping our eyes focused in Jesus.

5 DVD Sessions:
Recovering Contentment
Restoring Intimacy
Revealing Authenticity
Resurrecting Compassion
Replenishing Rest
Culture Shock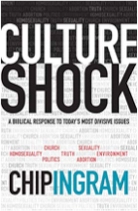 By Chip Ingram

We live in a reactionary culture where divisive issues arise, people on either side throw stones, and everyone ends up more entrenched in their opinions rather than reaching common ground. If there ever was a time for Christians to understand and communicate God's truth about controversial and polarizing issues, it is now.

In Culture Shock, Chip Ingram shows you how to bring light rather than heat to the most controversial issues of our day.

Book Chapters:
Whatever happened to Right and Wrong?
How did we get into this mess?
Human Sexuality
Homosexuality
Abortion
The Environment
Politics
here do we go from here?